A Micromarket is a site that provides consumers with various food and other products to meet the daily needs of their employees during the day. This self-service counter concept provides 24/7 access to a wide range of workplace products, from breakfast to meals, while offering a quick fix for snacks as well.
Allow employees to take healthy breaks.

Improve interactions and closeness.

Eat healthy!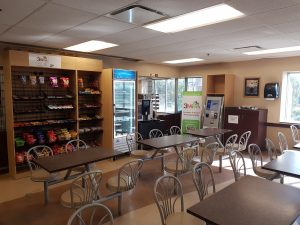 A more economical and varied substitute
A Micromarket replaces all types of cafeterias, which are expensive and offer a limited service in time and products. In addition, a Micromarket replaces vending machines, which are impersonal and offer limited products whose freshness, quality and variety may leave something to be desired.
Less expensive

More user-friendly