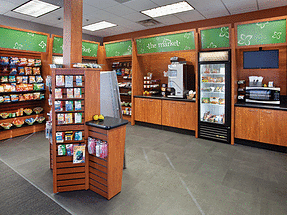 Micromarkets are the new trend in business. They replace expensive cafeterias and impersonal vending machines whose quality and variety may leave something to be desired.
François Morris, founding president of 3Mmm Group (Morris-micro-market) is one of the Canadian leaders in this field. We offer our services throughout Canada. We currently serve small, medium and large private businesses, as well as public and parapublic organizations throughout Quebec.
Les benefits of 3Mmm Micromarkets
We are the leaders in Canada

Products and services offered directly at your home, free of charge

Available 24h / 7d

Reliable system and responsive customer service

Reduce long employee breaks

Promote healthy eating

Improve internal networking

Provide a healthier and more productive environment

No management required from you

Can generate direct profits to the company and / or employee associations
We know from our many years of experience that we can improve your work environment and benefit your business.
Offer you increased productivity with satisfied employees in their workplace.

Allow you to generate direct or indirect income.

Allow you to focus your energy 100% on your company.